Dear 27-year-old Joyce in 2029:
Hi, how have you been? Is life what you dream of like you thought at the age of 17? Or is it dull and repetitive like you were afraid of? Remember when you were in high school and saw lots of movies and watched so many shows, you spent most of the time lying on the bed, though that sounds a waste of time now. Do you still watch Netflix? Is Andy Samberg still acting? Is he still your favourite actor because he is so hilarious? By the way, are you in a relationship now? Or did you just overcome a breakup? I have tons of questions about which I want to know the answers, I guess I have to wait a decade to solve them all.
I know your feelings get hurt easily, the 17-year-old you are trying not to be so sensitive, I hope the 27 one can already get over things quickly. Are you doing the job you like? Have you become a skillful surgeon and helped those in need?. Are you donating money to the charity each month? Have you earned enough money that you are able to supply your parents so they can retire earlier? I hope you already achieved all that because those things are what we always wanted to do, to contribute to the society as well as to give back to those we love because they worked so hard for us.
I guess you might feel a lot of pressure when you studied in medical school. However, I think you must make some good friends and you all went through a hard time together. Being alone in an unfamiliar environment wasn't a hard thing for you, right? When you feel exhausted, please think about how much time we dedicated to our dreams.
The last question is: Are you happy about your life now? I hope you are because that would be mine in a decade.
With love
17-year-old Joyce in 2019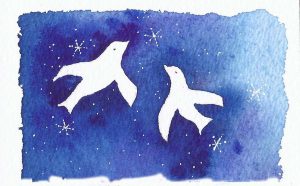 撰文
Joyce Lee
審稿
Lily Wang
說故事的人英語工作室
老師對文章評論解析
寫給自己的信,其實無從評論好壞,因為只有自己才知道當下自己最在意的人、事、物和對未來的渴望。
但就寫作的觀點來說,首段的大量堆疊詢問句,創造出一種急迫感,這樣的強烈語感讓人很容易進入書寫者內心的渴望與需求,是好的撰寫手法。然而,第二段之後,延續這樣的詢問句,就會讓人找不到內容的核心。好的寫作要有足夠的內容做為支撐,讓讀者能在文字當中找到生活的軌跡和觸動的對話窗口。